About US
Aries Group was started with its flagship unit, Aries Marine, and then grown to become one of the largest multinational conglomerates in the Middle East with 42 companies operating in 15 countries across the world. Within a short span of 17 years, Aries Group has collaborated with more than 2500 national and international clients and executed more than 25000 projects successfully. The new venture from the most trusted name Aries Group of Companies, Aries Plex are at its best creating large-scale landmark multiplexs and state-of-the-art home theatres that can perfectly support today's entertainment needs
Aries Plex Private Limited was incorporated in September 2014 for the purpose of establishing a chain of Multiplexes & Exhibitions. We have started establishment of Aries Plex's 1st project at Thiruvanthapuram on December 2014 and opened 3 Screens in June 2015 and another 3 screens will get ready to open in April 2016. Our Multiplex's are very well designed revenue models, the revenue will be generated through sale of Tickets for new release, indoor and outdoor advertisement, food and beverages, gaming zones, food courts, Providing Parking Facilities etc..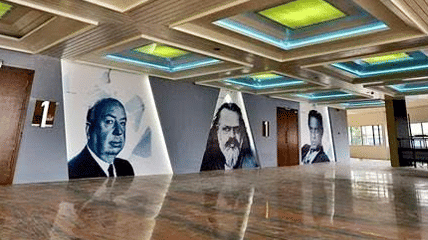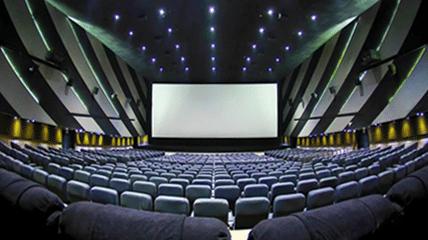 Our Vision
Aries Plex aims to develop 20 multiplexes and 100 screens across Kerala by 2017.
Facilities
Technical Details of Completed 03 Screens
AUDI 1
Platinum Seats : 42 Nos
Executives Seats : 653 Nos
72 x 31 feet Imported Clarus XC220 Giant Silver Screen.
Barco 32B brightest new age 4K twin projectors.
Using two projectors simultaneously for brightness level of 66000 lumens with 4K resolution.
South India's First 4K Twin Projectors.
Dolby Atmos 64 channels 80000 watts, 52 Nos active three way surround and overhead speakers of each 1200 watts, 5 Nos horn loaded behind the screen arrays Quad Amp (4 way) each with 2000 watts, Horn loaded subwoofers 6 Nos each 1500 watts. Horn loaded drives provide sound distribution evenly to entire area of the auditorium.
180 degree reclinable sofas for premium class and imported executive seats for other class.
AUDI 2
Gold Seats : 51 Nos
Executives Seats : 152 Nos
Imported Spectral 240 SP Silver Screen.
Barco DP2K – 20C brightest 2K projector.
Dolby Digital 5.1 Channel Sound System
Belgium Imported Sofa Sets
AUDI 3
Executives Seats : 72 Nos
Imported Spectral 240 SP Silver Screen.
Barco DP2K – 20C brightest 2K projector.
Dolby Digital 5.1 Channel Sound System
AUDI 4
Executives Seats : 252 Seats
Imported Spectral 240 SP Silver Screen.
Barco DP2K – 19B brightest 2K projector.
Dolby Atmos 32 channels 80000 watts
Belgium Imported Sofa Sets
AUDI 5
Executives Seats : 181 Seats
Imported Spectral 240 SP Silver Screen.
Barco 10 S brightest 2K projector.
Dolby Digital 7.1 Channel Sound System
Belgium Imported Sofa Sets
AUDI 6
Executives Seats : 152 Seats
Imported Spectral 240 SP Silver Screen.
Barco 10 S brightest 2K projector.
Dolby Digital 7.1 Channel Sound System
Belgium Imported Sofa Sets
Other Facilities
Johnson 16 Passenger Lift, Johnson Branded Escalator, Online Kiosk, Branded Food Courts, Smoking Rooms, Feeding Rooms, Modernalised Hygiene Toilets etc